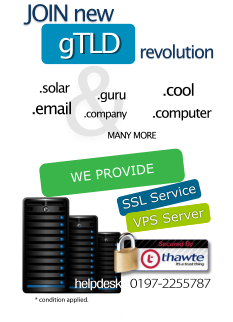 DOMAIN NAME REGISTRATION

mybdWeb (a concern of SVS) is a Top-notch Website Hosting and Domain Name Registration Company in Bangladesh with a mission of // Domain for All // in this virtual WEB WORLD. We strongly believe everybody should register their desired Domain name which is like being a proud owner of a sweet piece of land in the virtual WEB WORLD. We, mybdWeb Team is relentlessly trying to make this Domain Name Registration and Website Hosting service Reliable, Easy and Cost effective for our Customers every day. Our experienced professional Team focuses on diversified Domain Name Registration and Website Hosting Services and always keeps ourselves updated with the cutting Edge technologies and thus bringing innovation in these services.
Ready to Search your desired Domain Name? - Please Click Here
got an idea !! well, get a Domain First ...
WEB HOSTING SERVICE

mybdWeb Team offers you some great Website Hosting Packages (Linux Servers) backed up by some cutting edge Web Hosting Technologies. We are Committed of providing truly Professional Services which includes -
Proper Guidance
Time to time Email Notifications
Strong Spam Protection
Acting as your Consultant
99% guaranteed Uptime
Ensuring Site Security
and TOP NOTCH Customer Support
WHY CHOOSE mybdWeb as your Hosting Provider?
- All urgent/non-urgent requests are handled within 24 hours.
- No generic automated responses. Each incident is reviewed and responded to by an experienced professional not a machine.
- Our support is flexible. Our team will happily offer their expertise even with those things that fall out of the parameters of our responsibility.
- We are here for you around the clock, 24 hours a day, 7 days a week, all 365 days of the year (even on public holidays).
- All our customers have direct access to our management, so if you need to escalate any issue to our management you can do so at any time.
To Choose your Web Hosting Package - Please Click Here
let the Professionals handle your Hosting ...