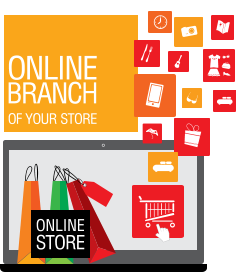 ONLINE SHOPPING SITE | E-COMMERCE SOLUTION

Want to start selling Online - build your own Webstore? Let us inform you that, making money online is on fire, which means adding e-commerce to your revenue streams creates blazing profits. For that, your e-commerce Plan should be as essential as your original Business Plan. The most important factor in your e-commerce plan should be the experience you want to give to your Customer thinking 3-4 years down the Road. In fact, there is no universal set of rules for an e-commerce site that can give your site a guaranteed elevation but let us present some of the major points that should play a major role in your e-commerce Website Plan:
-> Making your Online Shopping process Simple for your Customers.
-> Showing the Advantages of your Products.
-> Making your Website visitor trust you.
Basic E-commerce Website Solution Price

Development Charge
- 35000 Tk.
(one time cost)
Monthly Maintenance Fee
- 3000 Tk.
(min 6 months contract)
get the
» build your online store ... start selling Online