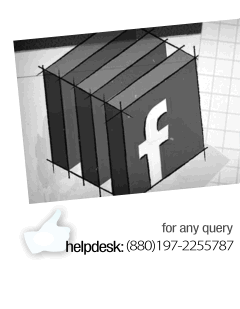 FACEBOOK APPLICATION DEVELOPMENT

Why should you bring your Business into Facebook? Well, worldwide, there are more than 10 Billion Facebook users and around 3.6 million (36 Lac) in Bangladesh as of now. Facebook is just becoming more and more popular among different demographic age users day by day. This ever growing social network platform with this amount of user base has certainly created an easy path to reach your Customers in a more effectively than ever. Inherent Viral effect of the Social Network can give you an instant reach of your communication to the whole world in a word of mouth fashion.
Worldwide, every renowned Brand/Business is coming up with their innovating Facebook Applications for their Customers understanding the impact of it. Let's go through some Business Benefits of using Facebook Applications:
Branding - Facebook can be a great resource for creating brand awareness.
Customer Engagement - Facebook Application can be a great way for communicating your business Promotions, Events, Regular activities and get a chance to talk your Consumers directly.
Web Traffic - Facebook can be a portal point for driving traffic for your site.
Reputation Management - A unique chance to get know about your brand from your Customer directly.
New Lead Generation / Customer Acquisition - Facebook provides an opportunity to find consumers you may have not otherwise discovered.
Customer Retention - A great tool to build relationship with the Customers and thus can retain your Customers for long.
Viral effect: the Inherent Value - Facebook has taken word of mouth to a whole new level. Nothing attracts a Crowd like a Crowd.
Want to talk to our Project Manager directly ? Please Call at : (880)-1912387297 , (880)-1926672049 ... We would be happy to answer your queries.
nothing attracts Crowd like a Crowd !
FACEBOOK PAGE MAINTENANCE

Proper Facebook Business Page Moderation / Campaign Management can take your Customer Engagement to its optimum Level - thus creates a huge positive impact on Reputation Management, Customer retention and Brand Awareness.
In the case of Page Management, only proper planning and 24/7 maintenance can build Customer Engagement and can help in attracting new Customers. Scattered Post with improper planning, visuals, messages, timing and maintenance can ruined your Customer Experience and thus will effect negatively on Customer Retention, Brand Awareness and Reputation Management.
Proper Facebook Page Management and Campaign Management Includes -
- Developing Post Plans (daily / weekly / monthly)
- Consideration of the Proper Post Timing
- Developing Proper Communication Messages
- Ensuring Proper Visuals Postwise / Campaignwise
- LIVE Moderation of the Comments and Messages
- Developing Monthly Report
- Generating Campaign Ideas
- Manage the Campaign
- Analyzing the impact of a campaign
- Developing the other relevant materials for Social Media
- Provide Analytics and Reports on traffic
Want to talk to our Project Manager directly ? Please Call at : (880)-1912387297 , (880)-1926672049 ... We would be happy to answer your queries.
engagement is the key ... allow the professionals ...