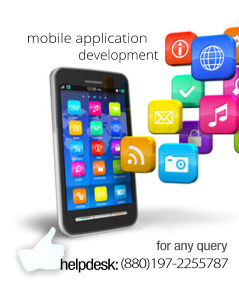 ANDROID APPLICATION DEVELOPMENT

The World is going Mobile - the Online marketing universe has expanded past Desktop Computers and onto Mobile Devices now. In these days, you can say there is a Mobile Application for everything. It is because of the evolution of Connected Mobile Applications and this evolution is disrupting the traditional business Software Market. Many studies say that, you can reach more Customers easily with a Mobile Application as the target people are getting connected to more and more Mobile Devices day by day - which in terms builds a Stronger relationship with your Customers.
HOW DOES MOBILE APP INTEGRATION HELP YOU REACH MORE CUSTOMERS?
-> Maximise your marketing budget by leveraging other people's marketing efforts.
-> Utilise the viral nature of mobile applications to expand customer reach.
-> Earn customer attention and respect by being an adopter of mobile innovations.
-> Protect your position against competitors through agile response.
Now, with those Mobile Devices in the Market, Android is just the Market Leader as of now. Therefore, it is just a matter of step that you can wish to take by building an Android Application for your Business and reach your Customers in no time.
be easily connected with your customers with an android application ...